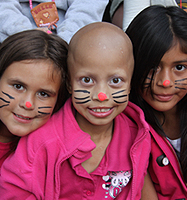 Camps are FUN!
Camps are FREE!
Camps are FUN!
Camps are FREE!
It is time to sign up.
Many of these camps are taking applications NOW! 
We are all about fun at camp,
but we are also extremely proud of the indisputable fact
that camp goes far beyond giggling, joke-telling and crazy games.
Camp matters. 
 And it matters even more to kids battling serious illnesses.
Yes, actually, we do have hoity-toity research to prove it.
The Yale Child Study Center recently found that those who attend camp showed improved confidence, higher self-esteem, a greater sense of independence, and an increased interest in social activities. Their research revealed that children's stress related to their illness decreased as a result of the camp experience.
Hundreds of camps are for kids and their family members. There are some outstanding adventure camps for teens and young adults (I especially love River Discovery in Utah and First Descents all over the country). Even if you are not searching for a camp, check out this directory. I think you will be moved, as I am, by the generosity, commitment, and creativity of these zillions of folks who make these opportunities available to the cancer community.
I am wildly impressed by the amazing people. They are fundraisers, counselors, cooks and bottle washers, doctors and nurses and social workers … who volunteer and do everything they can to make each camper comfortable and fearless and courageous. They understand and want to share the powerful healing that is offered at camp … the emotional healing that comes with a sense that you are not alone, that you can make new friends who truly know who you are, that others share your fears and your uncertainties, that there is always hope, and that singing a camp song and making s'mores with your cabin-mates under a starry sky is just fantastic.
This is a phenomenon. These camps, with a few exceptions, are not financed by foundations. They are funded by their communities, sometimes small rural towns, working together to make camp happen for our kids.
I have listed many awesome camps in beautiful places all over the country, along with photos and videos of camp life. Just click on the name of the camp or click the arrow on the videos so you can find more information. Please contact me at [email protected]g if you know additional camps that should be listed in our directory.
Camps soothe the soul.
Disclaimer: Nancy's List and I do not endorse nor recommend any of these camps. Although I have done my best to evaluate these resources and to list only those that fulfill the criteria for inclusion, you will need to assess whether a camp is appropriate for your child and your family.