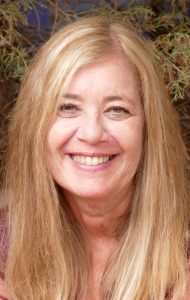 Janet Lynn Roseman is a Associate Professor in Integrative Medicine at Dr. Kiran Patel College of Osteopathic Medicine in Fort Lauderdale, Florida. She is currently conducting a study with light therapy to help people with chronic fatigue and fibromyalgia.
Dr. Roseman lectures to healthcare professionals on the use of arts-based therapies with people with cancer.
Janet is an intuitive coach and a Reiki Master. She leads groups for women with cancer and caregivers for empowerment during their journey with cancer.
Janet is the author of several books including her most recent … If Joan of Arc Had Cancer: Finding Courage, Faith and Healing from History's Most Inspired Woman Warrior (New World Library).  https://www.newworldlibrary.com/Books/ProductDetails/tabid/64/SKU/83185/Default.aspx#.XgqCnm5FyUk .
Joan of Arc, the fourteenth-century teenager who led the armies of France before facing the Inquisition, stands as the quintessential icon of feminine courage and faith. These are the attributes most needed by women facing a diagnosis of cancer or any life-threatening disease.
Drawing directly from the words Joan spoke at her trial, author Janet Lynn Roseman presents thirty-one Flames of Courage and thirty-one Gateways to be used over the course of a month or a year to resurrect inner fortitude and create an environment for healing. Her approach encompasses body, mind, and spirit and will help you access and reclaim your personal power to find healing and peace in your journey.
Instead of discovering on your own how to survive
when confronted by a life-threatening illness,
why not learn from those who have preceded us
and made the wisdom of survivor behavior available to us all?
Janet Lynn Roseman's book shares that wisdom,
which I know from experience,
and speaks the truth.
Survivors' stories, and the wisdom of the sages, all have common themes.
Read Janet's and Joan of Arc's wisdom
and let it guide you on your journey through life. 
— Dr. Bernie S. Siegel,
author of The Art of Healing and Love, Medicine, and Miracles
As an advocate working in the cancer world after my own diagnosis,
which, happily, was twenty years ago,
I know very well how important the mind-body connection can be.
I yearned for happy, healthy role models
when I was dealing with the disease.
In that moment,
a book like If Joan of Arc Had Cancer
would have been a wondrous gift to me.
Sadly millions of us each year will hear the words
'You have cancer.'
This book will make that journey so much easier.
— Ann Fonfa, president (volunteer), The Annie Appleseed Project
Janet received the Presidents Award from Lesley University, Cambridge, Mass. for her work in oncology. She was the recipient of the David Larsen Fellowship in Spirituality and Medicine from the Library of Congress.  She created the Sidney Project in Spirituality and Medicine and Compassionate CareTm for physicians to help improve compassionate care.
There is a vitality, a life force, an energy,
a quickening that is translated through you into action,
and because there is only one of you in all of time,
this expression is unique.
And if you block it,
it will never exist through any other medium and it will be lost.
It is your business to keep it yours clearly and directly,
to keep the channel open.
— Martha Graham
[email protected]
Dr. Janet Lynn Roseman-Halsband
Associate Professor, Integrative Medicine
Dr. Kiran C. Patel, College of Osteopathic Medicine
Ft. Lauderdale, Florida
954-262-1661